Grilled Chicken Breasts with Mustard Sauce
German Summer Salad
Lettuce Salad with Creamy Dressing
Lettuce Salad with Creamy Dressing, Walnuts and Cheese
Total time: 10 minutes
    This is another small side salad: to round out the meal.  You can add bits of anything you have on hand; we're using some walnut halves and a bit of cheese.  The yogurt dressing is similar to 'Ranch'.... but without all the unpronounceable ingredients...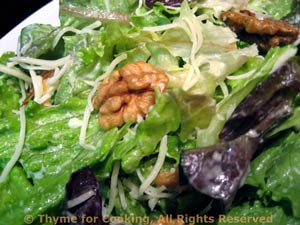 Ingredients:
lettuce, enough for two small salads
1/4 cup shredded cheese - any flavor
1/4 cup walnuts halves 
1/3 cup creamy herb dressing
 Instructions:
Prepare lettuce and put into a medium bowl. 
Add a bit of dressing and toss to coat (use tongs, it's easier). 
Taste and add more dressing if desired. 
Add cheese and walnuts, give it another toss or two and serve.
Creamy Herb Dressing
 Ingredients:
1/4 cup plain yogurt 
1 1/2 tsp Dijon-style mustard
1 1/2 tsp lemon juice
2 tsp fresh snipped chives       

Substitute 2 tsp dried

1 tsp fresh snipped tarragon   

Substitute 2 tsp dried

4 tsp salad olive oil
 Instructions:
Snip tarragon and chives with scissors. 
In small bowl whisk yogurt, mustard and lemon juice. 
Add oil, a bit at a time and whisk well. 
Add herbs. 

This will keep a week.