Salad with Turkey, Mushrooms and Potatoes
Total time: 30 minutes
     This is a colorful summer salad, with a relatively 'light' dressing.  You can do the potatoes and turkey in a skillet or on the barbecue grill; the time is about the same.  Use a mix of greens if you can.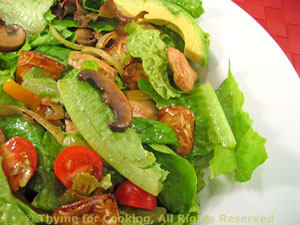 Ingredients:
10oz (300gr) turkey cutlets 
2 tbs Teriyaki marinade or sauce
2 medium potatoes, (10oz, 300gr)
4 tsp olive oil, divided
1 onion
1/2 orange bell pepper
4oz (120gr) mushrooms
1 tsp soy sauce
1 avocado
1/2 cup (3oz, 90gr) cherry tomatoes
lettuce for 2 main meal salads  
Teriyaki Vinaigrette:
1 tbs Teriyaki sauce
1 tbs sherry vinegar
1 tsp Dijon-style mustard
2 tsp walnut or sesame oil
1 tbs good olive oil
 Instructions:
Potatoes: 
Cut potatoes into bite size pieces and coat with 2 tsp olive oil. 
Either cook in a pan on the barbecue if you are using, or sauté in a large, nonstick skillet over medium heat until done and lightly browned, 20 - 25 minutes.
Turkey:
Put turkey on a plate and spoon Teriyaki marinade over both sides. 
Cook on barbecue grill for 4 - 6 minutes per side (depending on thickness) or sauté in nonstick skillet for the same amount of time.  Remove and slice into strips.
Vegetables: 
Slice onion and pepper.
Trim and slice mushrooms. 
Heat 2 tsp oil in medium skillet.  Add pepper, onion and sauté for 5 minutes. 
Add mushrooms, soy sauce and sauté 5 minutes longer, until vegetables are crisp tender.
Vinaigrette: 
Put all ingredients in a small bowl and whisk well to combine.
The rest:
Prepare lettuce, rinse and spin dry if needed.
Slice avocado.
Cut tomatoes in half
To assemble:
Add half of the vinaigrette to the lettuce and toss well to coat.
Add the remaining ingredients and toss gently to combine.
Drizzle with remaining vinaigrette and serve.