Chicken, Avocado and Quinoa Salad
Total time: 20 minutes
     I like to add quinoa or brown rice to a salad, to round it out and make it a full meal.  Plus it adds an interesting flavor and texture.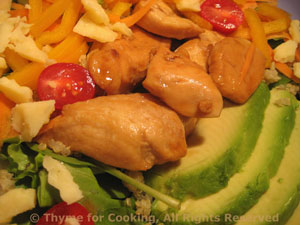 Ingredients:
 Instructions:
Cut chicken into bite-size pieces. 
Heat Teriyaki sauce and walnut oil in a large skillet.
Add chicken and stir-fry until cooked through.
Cook quinoa in chicken stock for 15 minutes or until done.
Cut avocado into slices. 
Cut pepper into matchsticks. 
Shred carrot using a vegetable peeler. 
Cut cherry tomatoes in half. 
Crumble cheddar. 
Prepare lettuce, wash and spin dry if needed.
Snip or tear herbs

Teriyaki Vinaigrette:

Whisk together Teriyaki sauce, vinegar and mustard. 
Slowly drizzle in olive oil, whisking to combine.
To finish:
Put lettuce and herbs into a large bowl.
Add half the vinaigrette and toss to coat. 
Spread the quinoa on top of the lettuce. 
Arrange the rest of the ingredients on top of quinoa. 
Drizzle with a bit more vinaigrette and serve, remaining vinaigrette on the side.