Grilled Chicken, Pepper and Avocado Salad
Total time: 25 minutes
  Grilled roasted peppers and onions, chicken with a barbecue flavor and a 'French' dressing for the salad.  Try to get a sweet onion: Maui or Walla Walla.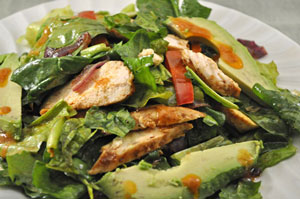 Ingredients:
2 chicken breasts, boneless, skinless
1 red pepper or yellow pepper
1 sweet or red onion
2 tsp olive oil
1 avocado
1 carrot
Lettuce for 2 main meal salads
Marinade for chicken:
1 tbs Worcestershire sauce
1 tbs ketchup
1 tbs red wine vinegar
1 tbs olive oil
1/2 tsp chili powder
1/2 tsp garlic powder
"French" Vinaigrette:
2 tbs ketchup
1 tbs red wine vinegar
1 tsp Dijon-style mustard
1/4 tsp paprika
3 tbs salad olive oil
 Instructions:
Chicken: 
Make marinade, pour over chicken and set aside.
Vegetables:
Clean and slice the pepper into strips.
Cut the onion in half and slice thickly. 
Put onion and pepper into a bowl, add oil and toss well.  Cook pepper and onion in grill pan (or any old metal pie or cake tin) on barbecue grill for about 10 minutes until they are crisp-tender.  Stir once or twice. 
When vegetables are done start to cook chicken, 12 - 15 minutes, turning once.
Vinaigrette: 
Mix ketchup, vinegar and mustard.
Slowly add olive oil, whisking constantly. 
Salad:
Prepare lettuce and put in large salad bowl. 
Slice the avocado. 
Slice the carrot into paper thin strips using the vegetable peeler. 
Add a bit (2 tbs) of dressing to lettuce and toss well to coat. 
Add carrot, peppers and onions, and a bit (1 tbs) more dressing and toss well. 
Arrange avocado slices around edge of salad. 
When chicken is done, thinly slice and arrange in center of salad. 
Drizzle a bit of dressing on the avocado and chicken and serve, remaining dressing on the side.
Note:  Peppers and onions can be roasted in400F (200C) oven for 20 minutes or sautéed in a skillet until brown.  Chicken can be sautéed in a skillet for about the same amount of time.