Tuna Barley Salad 
Total time: 30 minutes
    This is a variation on the traditional Tuna Macaroni Salad. It's lots healthier and we like the chewy barley.... Use quick-cooking pearl barley, which takes about 15 minutes.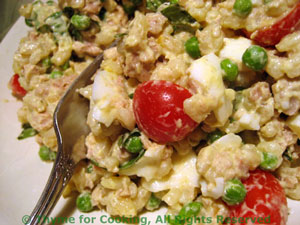 Ingredients:
2/3 cup (3.3oz, 95gr) quick-cooking barley
1 1/3 cup (11oz, 330ml) chicken stock
2 hard-boiled eggs
9oz (270gr) tuna
1 - 2 ribs celery
1 cup peas  

frozen, thawed, no sauce

1/2 cup (3oz, 90gr) cherry tomatoes
2 tbs fresh, snipped chives
2 tbs fresh, snipped basil

Creamy Dressing:

2 tbs Dijon-style mustard
4 tbs Greek or plain yogurt
4 tbs mayonnaise
 Instructions:
Put barley and chicken stock in a small saucepan. 
Cover and simmer until tender, about 15 minutes for quick cooking barley.
Cook eggs. When done, cool, peel and roughly chop.  
Thaw peas by running under hot water; drain well. 
Open and drain tuna  
Cut cherry tomatoes in half.
Roughly chop celery. 
Snip chives and basil. 

Make dressing:

Put all ingredients into a bowl and stir well to combine.

To finish: 

Put barley into a large bowl. 
Add tuna, eggs, peas, tomatoes, celery, herbs, dressing and stir well to combine.