Baked Tomatoes with Pesto
Grilled Cod with Caper, Green Olive Tarter Sauce
Sautéed Polenta Cakes 
Sautéed Chard with Tomatoes
Sautéed Polenta Cakes
Total time: 35 minutes
   I used metal rings to make these, but they can be free-formed. It's the flavor, not the shape that counts.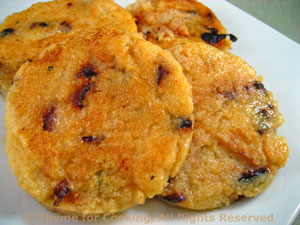 Ingredients:
1 cup (8oz, 240ml) chicken stock
1/4 cup (1.5oz, 45gr) polenta, quick-cooking
1/4 cup Parmesan
4 dry-cured Greek Olives, pitted and chopped
1 tbs olive oil
 Instructions:
Bring stock and oil to boil in a small saucepan. 
Add polenta, whisking constantly - or it will have little volcanic eruptions spewing polenta all over your stove.
 Turn heat down and cook about 5 minutes (or whatever your package tells you), stirring constantly. 
When done, stir in cheese, olives and remove from heat.

If using rings: 

Place 2 rings on lightly oiled cling film. 
Spoon 1/4 of the polenta into each ring and flatten. 
Let rest 2 minutes, then remove ring and repeat. (I only have 2 rings). 

If not using rings:

  Divide the polenta into 4ths.  Place each 4th on lightly oiled cling film and pat into circles 3 inches (7.5cm) in diameter.
Allow polenta to cool, 10 - 15 minutes (or longer).
Heat oil in a medium nonstick skillet.  Add polenta and sauté until browned, turn and brown the other side. 
Remove and serve.