Spinach, White Bean, Red Pepper Salad
Grilled Glazed Salmon
Pasta with Olive Oil, Herbs, Parmesan
Sautéed Asparagus with Tarragon Yogurt Sauce
Pasta with Olive Oil, Herbs and Parmesan
Total time: 25 minutes
     Simple pasta, tossed with a fruity olive oil, some herbs and an optional bit of garlic.  Finish it with some freshly grated Parmesan and you have a side dish worthy of the most discriminating palate.  In summer I use lots of fresh herbs; in winter I use dried and add the garlic.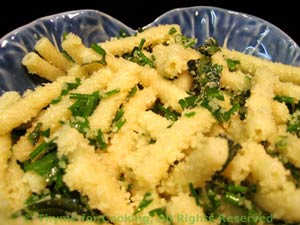 Ingredients:
1 cup (3.3oz, 95gr) dried pasta -

fusilli, penne

1 tbs good olive oil
1/3 cup (1.5oz, 45gr) grated Parmesan - preferably freshly grated
1 - 2 tbs fresh herbs  

oregano, basil, chives, parsley,   whatever is on hand

 

    OR

2 tsp dried herbs 

oregano, basil, chives, parsley

2 garlic cloves, minced
 Instructions:
Cook pasta according to package instructions.  Drain. 
For summer:
Put pasta in a bowl, add olive oil, herbs and cheese.  Stir to combine and serve.

For winter: 
In same pan over medium low heat olive oil.
Add dried herbs and minced garlic, and sauté for a few minutes. 
Add drained pasta, toss quickly, remove from heat and add Parmesan and serve.