Macaroni and Cheese
Total time: 25 minutes
   In my youth, Mac and Cheese came from a box and was very yellow.  This is not a fancy, adult version made with 6 different cheeses - although you could.... Use any cheese you like, just make certain it's one that melts and doesn't turn to string. To find out more:  The Rules of Melting Cheese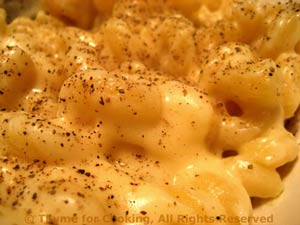 Ingredients:
1 1/4 cups (4oz, 120gr) pasta, 

tubes, macaroni, curly macaroni

Béchamel:
2 tbs butter
2 tbs plus 2 tsp flour
1/4 tsp dry mustard
1 1/2 cups (12oz, 360ml) milk
3/4 cup (3oz, 90gr) shredded cheese, 

Fontina, Cheddar, Gruyère, or a combination

pepper
 Instructions:
Cook pasta according to package directions.
Shred cheese.
Béchamel: 
In a medium saucepan heat the butter over low heat. 
Add flour and stir with a whisk for 1 minute. 
Add a little (1/4 cup) of the milk and whisk to combine. 
Turn heat up to medium and keep adding milk, a little at a time and whisking.  You should have added all of the milk in a minute or 2. 
When all of the milk is in, bring to a boil (should almost be there), whisking. 
Remove from heat and stir in cheese.  If the cheese cools down the Béchamel too much to melt, put it back over low heat, stirring until cheese has melted. 
Do not boil or the cheese may seize - separate into a stringy ball and floating oil.
To Finish:
When pasta is done, drain and put into a large bowl. 
Pour Béchamel over and stir until well combined. 

Sprinkle with pepper and serve. 

Or put into a baking dish and bake for 10 - 15 minutes....