Grilled, Marinated Chicken Breasts
Pasta Salad with Zucchini (Courgette)
Warm Zucchini (Courgette) Pasta Salad / Peanut Ginger Dressing
Total time: 30 minutes
    Everyone looks for new, interesting ways to use the summer abundance of zucchini.  With the red peppers, it makes a colorful, warm, summer salad, especially good with the slightly hot/spicy Peanut Ginger Dressing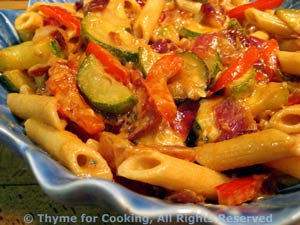 Ingredients:
1 zucchini (courgette), about 8" long (20cm)
2 cloves garlic
1 tbs fresh ginger
1 red onion
1/2 red pepper
1 tsp olive oil
1 tsp sesame or walnut oil
1 tsp soy sauce
1 cup (3.3oz, 95gr) pasta, penne, rigatoni
Peanut Ginger Dressing:
1 1/2 tbs creamy peanut butter 
1 1/2 tbs Dijon-style mustard
2 tsp soy sauce
1 tbs sesame or walnut oil
1 1/2 tbs olive oil
4 tsp white Balsamic vinegar
1/4 tsp powdered ginger
 Instructions:
Cook pasta according to package directions.  When done, drain.  
Slice onion, mince garlic and ginger. 
Slice the red pepper the long way then cut slices in half. 
Cut zucchini in half the long way, then into 1/4" (6cm) slices. 
Heat oils in large nonstick skillet over medium-high heat. 
Add onion, sauté 5 minutes. 
Add garlic, ginger, pepper and zucchini; turn heat to medium and sauté 6 - 10 minutes longer, depending on how crisp/done you like. 
When done to your liking add Dressing and pasta, toss to combine and serve.  I sautéed the veg just until the zucchini started to get limp, about 7 minutes.
Peanut Ginger Dressing:
Combine peanut butter, mustard, ginger and soy sauce in small bowl. 
Whisk to combine completely. 
Add vinegar and oils, whisk well.