Chicken Breast with Lemon and Honey
Pasta with Cherry Tomatoes and Herbs
Glazed Carrots and Onions
Pasta with Cherry Tomatoes and Herbs
Total time: 25 minutes
   Cherry tomatoes and lots of fresh herbs make this a bright pasta side dish for summer. The heat from the pasta will melt the cheese slightly.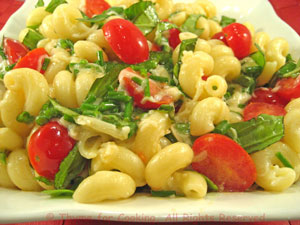 Ingredients:
1 cup (3.3oz, 95gr) uncooked pasta -

fusilli, penne

1 tbs olive oil
4oz (120gr) cherry tomatoes
1 tbs fresh, snipped chives
1 tbs fresh, snipped parsley
2 tbs fresh, snipped basil
1/3 cup shredded cheese
 Instructions:
Cook pasta according to package instructions.  Drain. 
Snip herbs.
Cut cherry tomatoes in half. 
When pasta is done, immediately put into a large bowl, add olive oil, tomatoes, cheese and herbs. 
Toss well to combine and serve.