Pasta with Basil, Chard and Red Onion
Total time: 30 minutes
    This is a colorful pasta salad with green chard, red onion and purple basil.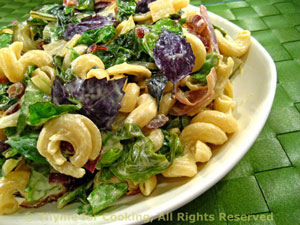 Ingredients:
6oz (180gr) chard

2 cloves garlic
1 red onion
handful purple basil
1 tbs white Balsamic vinegar
2 tsp oil
1 cup (3.3oz, 95gr) bite-size pasta
Yogurt Dressing:
1/3 cup (3oz, 90gr) Greek or plain yogurt
2 tsp Dijon mustard
1 tbs white Balsamic vinegar
2 tbs good olive oil
 Instructions:
Cook pasta according to package directions.  When done drain.
Slice onion, mince garlic. 
Trim and slice chard, keeping stems separate from leaves as best you can.
Tear large basil leaves in half.
Heat oil in large nonstick skillet over medium heat. 
Add onion, garlic, chard stems and sauté 7 minutes, or until onion is tender. 
Add chard leaves and sauté just until starting to wilt, 3 - 5 minutes longer. 
Remove from heat
Creamy Yogurt Dressing:
Put yogurt, mustard, vinegar into a bowl and whisk together. 
Add the olive oil, 1 tbs at a time, and whisk.
To finish:
Put pasta in large salad bowl.
Add onion/chard, Yogurt Dressing, and toss to combine.
Add basil, toss briefly and serve
Note:  To slice the chard, stack the leaves neatly with the stem together.  Fold the leaves in half the long way.  Slice the stems, keeping them separate, then the leaves.