Grilled Chicken Breasts / Lemon, Fresh Herbs
Pasta with Avocado and Greek Olives
Tomato Cucumber Salad
Pasta with Avocado and Greek Olives
Total time: 25 minutes
    Olives, avocado and a bit of Greek yogurt make a quick, simple salad side dish.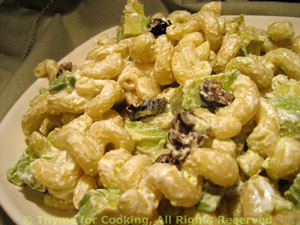 Ingredients:
1 cup (3.3oz, 95gr) dried pasta
1/2 ripe avocado
1/3 cup (3oz (90gr) Greek yogurt

1/2 cup black, dry-cured Greek olives

substitute any other olive
 Instructions:
Cook pasta according to package directions. 
Drain.  Do not rinse.
Cut avocado into small cubes. 
Pit olives, if needed, and cut in half. 
Combine yogurt and pasta; stir well to combine. 
Add avocado, olives, stir gently and serve.