Chicken Thighs in Red Wine Mushroom Sauce
Orzo 'Risotto' Style
Cauliflower with Browned Butter & Pepper
Orzo 'Risotto' Style
Total time: 25 minutes
   The orzo will absorb all of the stock, but should not be stiff. Even after the cheese, it should be loose but creamy.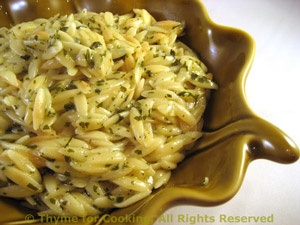 Ingredients:
1 tbs butter
1/2 cup (4.5oz, 130gr) orzo
1 1/4 cups (10oz, 300ml) chicken stock
1/4 cup fresh Parmesan cheese, grated
1 tbs parsley
 Instructions:
Melt butter over medium-high heat in small saucepan. 
Add orzo and cook for 1 minute, stirring constantly. 
Add stock and bring to a simmer on medium heat. 
Turn heat to low and simmer until done, stirring occasionally, about 15 minutes. 
All stock will be absorbed. 
Stir in cheese and parsley. 
Remove from heat and serve.