Artichokes with Lemon Sauce
Shrimp in Green Sauce
Orzo with Green Garlic and Mascarpone
Asparagus with Lemon Parsley Vinaigrette
Orzo with Green Garlic and Mascarpone
Total time: 25 minutes
   Cooking this small pasta in just enough liquid gives it a creamy texture, almost like risotto.  Stir in the Mascarpone at the end for a luscious finish.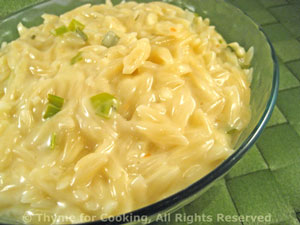 Ingredients:
 Instructions:
Trim green garlic, slicing off the root and removing 1 layer.  Thinly slice as much as you can, including the green tops.  
OR trim the green onion the same way and slice. 
Briefly sauté green garlic  (or onion) in oil in a small saucepan. 
Add orzo, wine, stock, cover and cook until all liquid is absorbed, 12 - 15 minutes. 
Stir in Mascarpone.