Warm Chevre Toasts with Forest Mushrooms
Seared Scallops with Prosciutto on Tarragon Cream
Orzo Florentine
Orzo Florentine
Total time: 40 minutes
   Florentine, or 'cooked in the style of Florence', means that there is spinach in the dish. Here the spinach is combined with cooked pasta and shredded cheese and baked until bubbly.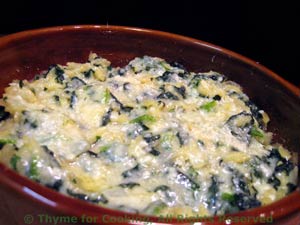 Ingredients:
8oz (240gr) frozen spinach
1/3 cup (3oz, 90gr) orzo
2 shallots
2 tsp butter
2/3 cup plus 2 tbs (6oz, 180ml) chicken stock
1/2 tsp marjoram
1/2 tsp basil
1/4 cup (1oz, 30gr) grated Parmesan
1/4 cup (1oz, 30gr) shredded cheese
 Instructions:
Finely chop shallots.
In small saucepan over medium heat sauté shallots in butter for 5 minutes.
Add orzo and sauté 1 minute.
Add stock and herbs, cover and simmer until done, 15 - 20 minutes.  All stock will be absorbed.
Thaw spinach and squeeze out excess moisture.
When orzo is done add the spinach and shredded cheese.  Stir well to combine. 
Pour into a lightly oiled glass baking dish, just large enough to hold it.
Sprinkle with Parmesan and bake at 375F (190C) until it starts to brown; about 15 minutes.
Remove and serve directly from baking dish.