Pumpkin Gnocchi
Total time: 60 minutes
  This Gnocchi, made with pumpkin rather than the more traditional potato, is a lovely golden color with the delicate flavor of winter squash.  Finished with a simple Brown Butter sauce and sprinkled with a few herbs, it makes a lovely side dish, perfect with more robust meats and seafood.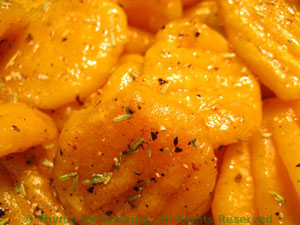 Ingredients:
1 cup pumpkin purée 
1 - 2 cups flour
 Instructions:
For the dough: 
Mix the pumpkin with 1 cup of the flour; using a wooden spoon or large fork to start.  As it comes together add more of the flour until it forms a ball and is difficult to work with. 
Lightly flour a work surface and place the dough on the flour. 
Knead by hand, adding flour, until dough is not too sticky to work with.  If you are using fresh pumpkin purée you will be adding more flour than if using purchased. 
When you can form the dough into a nice, soft, smooth ball you're done. 
Cover with a paper towel and let it rest for 10 - 15 minutes.
For the gnocchi: 
Pinch off a small piece of dough, about the size of a golf ball. 
On a floured surface, using the flat of your hands, roll it into a cylinder 3/4 - 1" (2cm) thick. 
Slice off pieces about 1/2" (1.25cm) thick. 
Lay the pieces on a paper towel. 
Press the tines of a fork into each piece to flatten slightly and give ridges; dipping the fork into flour first if the cut pieces are sticky. 
Repeat until all the dough is used.  
To cook: 
Bring a large pot of salted water to a boil over high heat. 
Add the gnocchi, about 1/3 at a time and cook until they float, 2 - 3 minutes. 
As soon as they float remove and place in a colander to drain. 
The gnocchi can be made to this point at any time. If not using right away, toss with a bit of olive oil to prevent sticking and set aside.  Refrigerate if not using within 2 hours.
Pumpkin Gnocchi in Browned Butter Sauce
Time: 10 minutes
 Ingredients:
pumpkin gnocchi
1 1/2 tbs butter
1 tbs olive or truffle oil
1 tsp herbes de Provence
black pepper
salt, fresh sea salt if you have it
 Instructions:
Cook gnocchi. 
Melt butter in nonstick skillet. 
Cook, undisturbed through the bubbling stage to the brown stage.  Watch carefully as it can quickly burn. 
When light brown add the oil.  This slows the browning, preventing it from getting a 'burnt' taste. 
Add the herbs and lots of pepper - to taste. 
Mix well, then add gnocchi. 
Stir-fry quickly to reheat and lightly brown, about 3 - 5 minutes, depending on how cold the gnocchi is and how crunchy you want the outside to be. 
Remove, sprinkle with sea salt and serve.