Tomato Garlic Soup
Veal Saltimbocca alla Romana
Fried Gnocchi
Butternut Squash with Browned Butter
Fried Gnocchi with Garlic and Parmesan
Total time: 25 minutes
  The gnocchi are boiled first, then fried until brown and crispy on the outside and finished with garlic, olive oil and Parmesan.  They stay soft and chewy on the inside.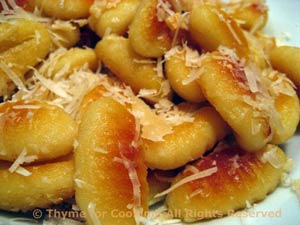 Ingredients:
7oz (210gr) fresh gnocchi
4 cloves garlic
1/3 cup (1.5oz, 45gr) freshly grated Parmesan
1 tbs olive oil
1 tbs good olive oil
 Instructions:
Heat water in a medium pot for gnocchi.  When boiling, add the gnocchi and cook just until they all float, 1 - 2 minutes. 
Drain and rinse lightly with cool water. 
Heat  1 tbs oil in a medium nonstick skillet. Add gnocchi and sauté until light brown, stirring and turning occasionally.  
Mince the garlic and add to skillet when gnocchi start to brown, and cook for at least 5 minutes longer. 
To finish: 
Put gnocchi and garlic into a serving bowl.  Drizzle with 1 tbs good olive oil, sprinkle with Parmesan and serve.