Turkey Cutlets with Sherry and Almonds
Fried Rice with Savoy Cabbage
Fried Rice with Savoy Cabbage
Total time: 30 minutes
   Savoy or green cabbage is leafier than the traditional white cabbage.  It cooks quickly and is perfect if it retains a slight crunch.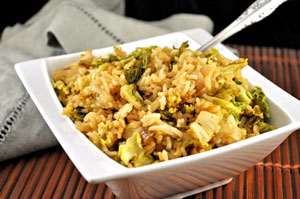 Ingredients:
1/2 cup (3.3oz, 95gr) Basmati rice
1 cup (8oz, 240ml) chicken stock
2 shallots
1/3 of a large head of Savoy cabbage, 6oz (180gr)
2 tsp olive oil
1 tbs soy sauce
1 tbs Balsamic vinegar
 Instructions:
Cook rice in stock until done.  Remove from heat and uncover. 
Remove dark green outer leaves from cabbage. Cut off a thick slice, avoiding the core. Lay flat, cut into 3 or 4 wedges, then thinly slice the wedges.
Clean and slice shallots.
Heat oil in a large nonstick skillet.  Add shallots and sauté until just starting to brown. 
Add cabbage and sauté until crisp-tender, 5 - 8 minutes longer.  
Add rice, soy sauce and vinegar.  Stir well to combine. 
Stir-fry for 3 - 5 minutes longer. Serve.