Fried Rice with Brussels Sprouts
Total time: 30 minutes
   You may think it a strange combination, but I have Brussels Sprouts.  They are small, easy to use and I don't have Chinese Cabbage.  The flavor is similar and the result delicious.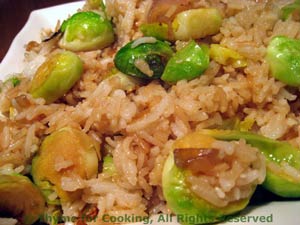 Ingredients:
1/2 cup (3.3oz, 95gr) Basmati rice
1 cup (8oz, 240ml) chicken stock
1 shallot
8 - 12 Brussels sprouts, depending on size  (I used 8 about 1" (2.5cm) in diameter)
2 tsp sesame oil
2 tsp olive oil
1 tbs soy sauce
1 tbs sherry
1 tbs sesame seeds
 Instructions:
Toast sesame seeds if needed.
Cook rice in stock until done. 
Remove from heat and uncover. 
Trim Brussels sprouts, removing any damaged or discolored leaves and slicing off the root end. Set sprout on root end and cut into 3 or 4 slices.  
Clean and slice shallot. 
Heat oils in large nonstick skillet over medium heat.  Add sprouts, shallots, and sauté until sprouts are crisp tender, turning once. 
Turn the heat up to medium high and add rice, soy sauce and sherry.  Stir well to combine. 
Stir-fry for 3 - 5 minutes.  Sprinkle with sesame seeds, stir once or twice and serve.
To toast sesame seeds:  Put them into a dry, nonstick skillet over medium heat.  Toss or stir them about in the pan until lightly golden, about 5 minutes.