Fried Rice
Total time: 30 minutes
   Traditional Fried Rice is made with cold, leftover white sticky rice.  This is equally good made with freshly cooked Basmati.  The scrambled egg and peas stay with the tradition, however.  Use plain, frozen peas.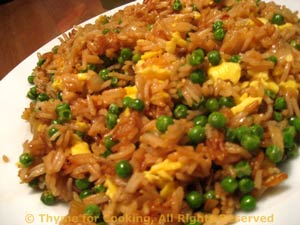 Ingredients:
1/2 cup (3.3oz, 95gr) Basmati rice
1 cup (8oz, 240ml) chicken stock
4 - 6 green onions (scallions) or 1/2 regular onion, chopped
2/3 cup peas
1 egg
2 tsp sesame oil
2 tsp olive oil
1 tbs soy sauce
1 tbs sherry
 Instructions:
Cook rice in stock until done.
Remove from heat and uncover to cool slightly.
Clean the green onions: slice off the root, remove 1 layer of skin.  Slice into 1/3" (1cm) long pieces. OR chop onion.
Put egg into a small bowl and lightly beat with a fork.
Heat half of the oils in a large nonstick skillet over medium-high heat.  Add egg and scramble.  Remove to a plate.
Heat remaining oils and onion, stir-fry 1 minute. 
Add rice, soy sauce and sherry.  Stir well to combine.  Stir-fry for 3 minutes.
Add peas and stir-fry 2 minutes longer.
Break scrambled egg into chunks, stir into rice and serve.