Ham and Chive Mini Frittatas
Lightly Smoked Cod
Couscous and Green Bean Salad
Couscous, Spinach and Green Bean Salad 
Total time: 15 minutes
    Couscous is such a good base for all sorts of vegetables and a wonderful way to use up the bits left in the fridge.  Mine tend to be non-traditional - more vegetables than couscous.  Feel free to adjust...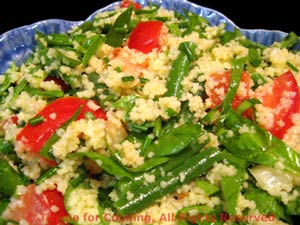 Ingredients:
1/2 cup (3oz, 90gr) couscous
3/4 cup (6oz, 180ml) chicken broth
4oz (120gr) green beans
2 tbs snipped chives
1 tomato
2oz (60gr) shredded fresh spinach
2 tbs white Balsamic vinegar
3 tbs good olive oil
1 1/2 tsp Dijon-style mustard
 Instructions:
Top and tail beans, cut into bite-size pieces. 
Put a medium saucepan 2/3rd's full of water on high heat. 
When boiling add beans and blanch for 3 minutes. 
Drain and immediately rinse with cold water.
Heat chicken broth to boiling.
Put couscous in a medium bowl.
When broth is boiling pour over couscous, cover and let stand for 10 minutes... Do not stir it.
Snip chives.
Roughly chop tomato.
Shred spinach: put the spinach leaves together in one hand and snip with a scissors. 
Add vegetables and herbs to couscous and fluff with a fork.  
Put the vinegar, mustard and oil in a small bowl. 
Whisk well and stir into couscous.  Serve.