Spanish Rice
Total time: 30 minutes
     The grated, fresh tomato adds more of the scent of tomato than a heavy flavor, making healthy, brown rice a bit more interesting. You could substitute Basmati.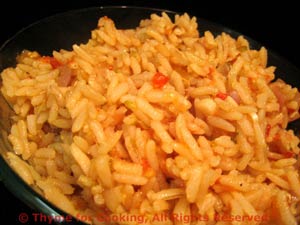 Ingredients:
1/2 cup (3.3oz, 95gr) quick-cooking brown rice
1/2 onion
1 clove garlic
1 ripe tomato
1 tsp dried oregano
2 tsp olive oil
3/4 cup (6oz, 180ml) chicken stock
 Instructions:
Finely chop onion and mince garlic.
Grate the tomato.
Heat oil in small saucepan.  Add onion and sauté 2 minutes. 
Add garlic and rice and sauté 1 minute. 
Measure the grated tomato.  It should be between 1/3 and 1/2 cup.  Add enough chicken stock to equal 1 cup (8oz, 240ml)and add to rice along with 2 tbs water and oregano.  Cover, reduce heat and simmer until rice is done (package directions) 15 - 20 minutes.  Uncover, fluff with a fork and serve.
Note:  To grate tomato: Cup half of a tomato in your hand and rub it on the big holes of a box (or other style) grater until all that is left in your hand is the skin.  You'll have to press a bit, but not too hard. Be careful not to grate your hand.