Fried Green Tomatoes alla Romana
Sautéed Sole with Butter and Lemon
Broccoli Rice Gratin
Broccoli Rice Gratin
Total time: 40 minutes
    This couldn't be easier: stir it all together and bake for 35 minutes.  The rice gets surprisingly fluffy...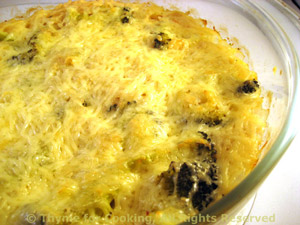 Ingredients:
1/2 cup (3.3oz, 95gr) quick-cooking brown rice
1 cup (8oz 240ml) chicken stock
1/2 medium head broccoli
1/2 medium onion
1/2 cup (4oz, 120gr) ricotta
1/2 tsp marjoram
1/2 tsp thyme
1/3 cup (1.5oz, 45gr) shredded cheese
 Instructions:
Chop onion. 
Trim broccoli and cut into small florets, with some stem. 
Mix rice, onion, stock, herbs and ricotta. 
Put the rice mixture into a baking dish. 
Arrange the broccoli over the rice, pressing it down firmly. 
Cover and bake, 400F (200C) for 30 minutes. 
Uncover, sprinkle with cheese and bake 5 minutes longer, uncovered. 
Serve.