Grilled Chicken with Lemon and Herbs
Summer Basmati Rice Pilaf
Sautéed Chard with Tomatoes
Summer Basmati Rice Pilaf
Total time: 20 minutes
   A simple addition of some tomato and pepper adds flavor and color to Basmati rice.  We're just using bits from other dishes....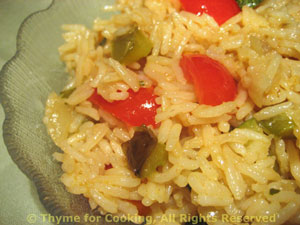 Ingredients:
1/2 cup (3.3oz, 95gr) Basmati rice
1/4 green bell pepper
1/4 onion
1 tsp olive oil
1 cup (8oz, 240ml) chicken stock
1/4 tomato
 Instructions:
Chop onion and pepper.  
Melt butter in a small saucepan over medium heat.  
Add onion, pepper, and sauté about 3 minutes, or until softened.  
Add rice and sauté, stirring for 1 minute longer. 
Add stock, cover and cook rice for length of time on package. 
Roughly chop tomato.
When rice is done, fluff with a fork, stir in tomato and serve.