Summer Squash Soup
Grilled Swordfish with Olive Shallot Relish
Barley Salad with Sautéed Peppers
Barley Salad with Red and Green Peppers
Total time: 25 minutes
   Colorful peppers add both flavor and nutrition to salads and side dishes.  I use quick-cooking barley, which takes about 15 minutes.  Cook in chicken stock for added flavor.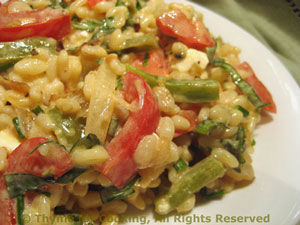 Ingredients:
2/3 cup (3.3oz, 95gr) quick-cooking barley
1 1/3 cup (11oz, 330ml) chicken stock
1/2 red bell pepper, sliced into strips
1/2 green bell pepper, sliced into strips
1 onion, sliced
2 tsp olive oil
1 tbs fresh chives, chopped
1 tbs fresh basil, chopped
Mustard Vinaigrette:
2 tbs Dijon-style mustard
2 tbs white Balsamic vinegar
2 tbs good olive oil
 Instructions:
Cook barley in stock until done, stirring occasionally. If all stock is not absorbed, drain.
Heat medium nonstick over medium heat.  Add oil, onion, pepper and sauté until tender and light brown, about 10 minutes.
Mustard Vinaigrette:
In a small bowl whisk together mustard and vinegar. 
Slowly drizzle in olive oil, whisking constantly.
To finish:
When barley is done put into a medium bowl. 
Add peppers and onions.
Stir in Vinaigrette, herbs, and serve.