Butternut Squash Soup
Roast Turkey with Madeira
Sage, (Giblet) and Celery Stuffing
Fresh Spinach Gratin
Cranberry Cheesecake Pie
Maple Glazed Sweet Potatoes
Total time: 60 minutes
    These are not overly sweet - no mini-marshmallows.  The taste of the sweet potatoes shines through and is enhanced, rather than overpowered, by the maple.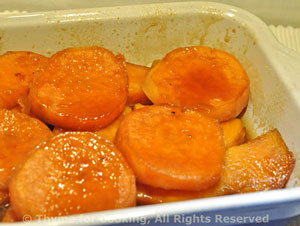 Ingredients:
24oz (1 1/2 lb, 720gr) sweet potatoes, 2 large
1/4 cup maple syrup
1/4 cup brown sugar
1 tbs butter
pinch of nutmeg
 Instructions:
Peel sweet potatoes and cut into 3/4 inch (2cm) rounds (the short way).
Cook in boiling, salted water until just tender, easily pierced with a knife.
Remove and drain. 
While potatoes cook heat the syrup, butter and brown sugar to boiling in a small saucepan.
Reduce heat and simmer 5 minutes.

To assemble:

Lay the potatoes in a baking dish just large enough to hold them all easily.  Don't fuss with the layers but do spoon a bit of syrup over each potato slice.
Pour the rest of the syrup over the top and bake, uncovered, 350F (175F) for 30 minutes.
Baste once after 15 minutes with the syrup from the bottom of the baking dish.   Serve.