Meat Loaf with Mushroom Sauce
Baked Sweet Potatoes
Cannellini with Tomatoes and Sage
Baked Sweet Potatoes
Total time: 60 minutes  10 - 15 in the microwave
     These will, obviously, cook much faster in the microwave and I have seen in the U.S. that you can buy them micro-wave ready ....whatever that means.  Sweet potatoes are incredibly good for us, easy and delicious! You can start in the micro for 8 minutes, then finish in the oven for 20 - 30 longer.  Faster but still with a crisp skin.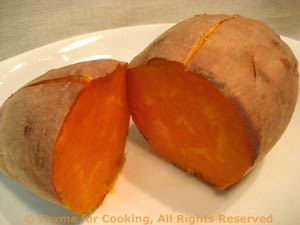 Ingredients:
2 sweet potatoes
Butter, salt & pepper
 Instructions:
Scrub potatoes. 
With a sharp knife cut a shallow slit down the length of each potato. 
Place on foil in the oven with slit side up.  The foil is necessary unless you want to clean your oven - as the potatoes get close to being done the sugars start to ooze out - the slit stops them from bursting.
Bake at 400F (200C) for 60 minutes or until done - tender when pierced with a knife.  
Serve with lots of butter, salt and pepper - eating the skins or not, as you choose.