Chicken Breasts / Tarragon Mustard Sauce
French Potato Salad
Butternut Squash with Browned Butter
French Potato Salad
Total time: 30 minutes
    This is a lightly dressed potato dish, with lots of tarragon and chives.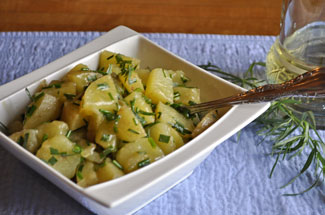 Ingredients:
2 medium potatoes
1 tbs snipped fresh chives
1 tbs snipped fresh tarragon
1 tbs salad olive oil
1 tbs tarragon white wine vinegar 
1 tbs beef stock  
 Instructions:
In a medium bowl whisk olive oil, vinegar and stock. 
Add chives and tarragon and let sit to blend flavors while potatoes cook. 
Slice the potatoes for salad, in small, bite-size pieces. 
Heat a medium saucepan half full of water over medium high heat. 
When water is boiling, add potatoes and cook just until tender when pierced with a sharp knife, 10 - 12 minutes. 
Remove from heat and drain well.  
Add to dressing and stir gently. 
Let rest to absorb flavors, stirring gently occasionally, allowing to cool. Serve.