Roasted Potatoes with White Balsamic Vinegar
Total time: 40 minutes
     When deciding how many potatoes to use I visualize them on my plate, then multiply by the number of people.  I make these lots and very the herbs according to the rest of the meal.  They get a lovely golden brown and a bit crispy, especially if you take the time to turn them.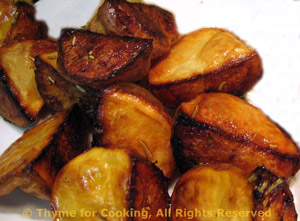 Ingredients:
2 medium potatoes
1 tbs olive oil
1 tbs White Balsamic vinegar
1/2 tsp thyme
1/2 tsp rosemary
 Instructions:
Slice potatoes in half the long way, then in half again.  Then slice in half or thirds the short way. 
Put remaining ingredients into a bowl and mix well. 
Add potatoes and toss, coating thoroughly. 
Arrange potatoes on baking sheet with rim (I use my trusty, round pizza pan)
Bake at 400F for 30 minutes.  You can turn once if you like to fuss but I usually don't bother. Remove from oven and serve.