Garlic Mashed Potatoes
Total time: 35 minutes
     I always make enough to use in another meal - patties, or shepherd's Pie, or something....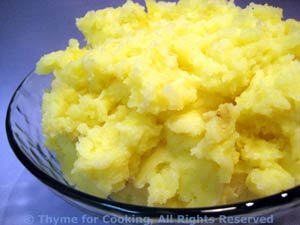 Ingredients:
 Instructions:
Peel potatoes and cut into quarters. 
Put potatoes in medium saucepan and add just enough water to cover.  Add salt and cover. 
Bring to a boil over medium heat.  When boiling (and pay attention or they will boil over) reduce heat and take cover partially off.  Continue cooking until done, 20 - 25 minutes.  They should be very done, easily coming apart when poked with a fork. 
When done, drain and put back on the heat 10 seconds or so to evaporate any excess moisture. 
Mash with a potato masher (or fork if you don't have one) 
Add enough of the garlic/milk mixture to get your desired consistency. 
If, after adding all of it, the potatoes are still too stiff just add more milk. 
Garlic Milk:
While potatoes are cooking mince or press the garlic. 
Heat butter in a small pan over medium-low heat. 
Sauté garlic until soft, being careful not to let it brown. 
When tender add the milk. 
Keep warm until ready to use in the potatoes.