Mashed Cauliflower & Potato Medley
Total time: 30 minutes
    The addition of puréed cauliflower to mashed potatoes adds a lovely flavor and sweetness.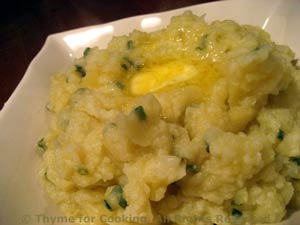 Ingredients:
1/3 head cauliflower
2 medium potatoes
1/8 - 1/3 cup milk
1 tbs butter
1 tbs dried parsley
 Instructions:
Cut cauliflower into large florets. 
Peel potatoes and cut into quarters.  
Cook potatoes and cauliflower in barely boiling water until very tender, about 30 minutes.  
When done, drain and put into a bowl. 
Add 1 tbs butter, parsley and mash with a potato masher or fork.  A few lumps are good.... 
Add milk, 1 tbs at a time, and stir / mash until you get the consistency you like. 
Mound into a bowl, put remaining 1 tbs butter on top and serve
Note:  Can be put into an oven proof serving dish, covered with foil and kept warm in 200F (100C) oven for 15 minutes.