Stuffed Mushrooms
Roast Pork Loin with Onion Sauce
Potato and Leek Pancake
Carrots with Mustard Glaze
Potato and Leek Pancake
Total time: 25 minutes
   I've been making these for a long time.  I think the original idea came from a Williams-Sonoma book. Once flipped, the heat can be reduced a bit and they can cook slowly with no attention, if needed.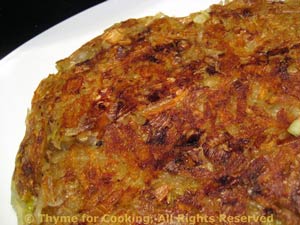 Ingredients:
2 medium potatoes, (12oz, 360gr total)
1 leek
1 tbs butter
1 tbs olive oil
salt and pepper
 Instructions:
Clean and thinly slice leeks.
Heat oil in medium nonstick skillet over medium heat.  Add leeks and sauté until softened, about 5 minutes.
While the leeks sauté wash the potatoes and shred using the large holes on the box grater.
Put the shredded potatoes into a bowl, add the cooked leeks and stir to combine.
Melt the butter in the same skillet.
Add the potato/leek mixture, flatten as best you can with a spatula, cover and cook over medium heat about 10 minutes, or until potatoes are golden - take a peak around the edges.
Put a plate (or tray) on top of the skillet.  Grabbing the plate and skillet together (with hot pads) flip them over so that the cake is on the plate.
Slide the cake back into the pan to cook the other side, another 7 - 10 minutes, but don't cover.
When done, slide onto a plate, sprinkle with salt and pepper, cut into wedges and serve.