Burgers with Ginger Barbecue Sauce
Grilled Potatoes with White Balsamic Glaze
Sautéed Zucchini (Courgette) with Tomatoes and Onion
Grilled Potatoes with White Balsamic Glaze
Total time: 35 minutes
   A reduction of white Balsamic vinegar, sweetened with a bit of sugar, give these the hint of potato salad, but keeps the crispness from roasting.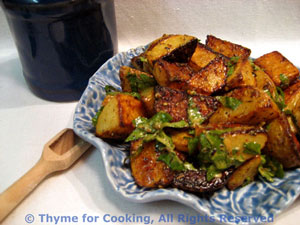 Ingredients:
 Instructions:
Slice potatoes in half the long way, then in half again. Then slice in half or thirds the short way. 
Put oil and paprika in a large bowl, add potatoes and toss, coating thoroughly. 
Put them into an old metal pie plate or cake tin or foil barbecue container (or whatever) that you will never use for any purpose but the barbecue again... and you should have one of these. 
Cook on barbecue (grill) for 20 - 30 minutes or until done... and you will need to stir them with a long-handled wooden spoon occasionally as they tend to develop 'hot spots' and can get a little crispy.   

Or

you can roast them in the oven.  Arrange potatoes on baking sheet with rim (I use my trusty, round pizza pan) Bake at 400F for 30 minutes.  
While the potatoes cook, heat vinegar and sugar in a small saucepan. 
Boil until reduced by half.  Keep warm. 
When potatoes are done put them into a serving dish, pour vinegar over, sprinkle with basil and serve.