Easy Barbecued Pork Chops 
Spanish Potatoes
Green Beans with Lemon and Soy Sauce
Spanish Potatoes
Total time: 35 minutes
   Cumin, paprika and sherry vinegar add a hint of Spain to these grilled potatoes.  Use any color pepper you like - and add hot peppers if so inclined.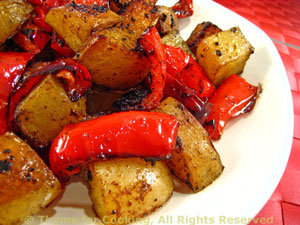 Ingredients:
2 medium potatoes
1 red bell pepper
1 tbs olive oil
1 tbs sherry vinegar
1/2 tsp cumin
1/2 tsp paprika
 Instructions:
Slice the pepper into thick slices.
Slice potatoes in half the long way, then in half again. Then slice in half or thirds the short way. 
Put spices, vinegar, olive oil into a large bowl, add potatoes, peppers, and toss well to coat. 
Put into 'grill pan' (a metal or foil pan dedicated to use on the grill) or onto a mesh grill pan (the idea is not to have the stuff fall through the grate into the fire....)
Cook over medium heat 20 - 30 minutes, until they all have a nice color and potatoes are done.  Serve.