Tuna and Radish Salad
Brined and Grilled Turkey Breast with Aioli
Grilled Potatoes with Aioli
Courgette (Zucchini) Sticks
Grilled Potatoes with Allioli 
Total time: 35 minutes
   Simple grilled potatoes, finished with freshly made allioli. If you like garlic, you will absolutely love this... But, be careful not to use too much.  In this case a little goes a long way!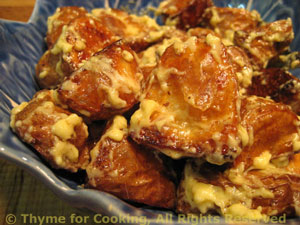 Ingredients:
2 medium potatoes
1 tbs olive oil
1/2 tsp paprika
1/2 tsp dried thyme
1 - 2 tbs

Allioli
 Instructions:
Slice potatoes in half the long way, then in half again.  Then slice in half or thirds the short way. 
Put oil, paprika and thyme into a large bowl and mix well. 
Add potatoes and toss, coating thoroughly. 
Put them into an old metal pie plate or cake tin or foil barbecue container (or whatever) that you will never use for any purpose but the barbecue again (you should have one of these).  Cook on barbecue (grill) for 25 - 30 minutes or until done... you will need to stir them with a long-handled wooden spoon occasionally as they tend to develop 'hot spots' and can get a little crispy.
When done remove potatoes and place on a paper towel briefly to remove the excess oil. 
Toss potatoes with 1 - 2 tbs allioli and serve.
Note:  Potatoes could also be roasted in 400F (200C) oven for 30 minutes.
Allioli
Time: 15 minutes
   This is the Spanish/Catalan method, without egg yolks.  It's heavy on the garlic, and very hot!  Yes, garlic packs a lot of heat when fixed this way!  You can cut it with commercial mayonnaise if you like.  This makes about 4 tbs of allioli. It can't be made ahead as it tends to 'break' upon sitting - still good, but it has to be pounded back together.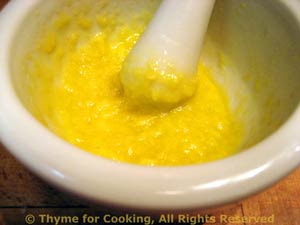 Ingredients:
4 large cloves of garlic
1/4 tsp sea, kosher or other coarse salt
2 - 3 tbs good olive oil
 Instructions:
Info: 

You have to do this with a mortar and pestle. (see below for possible substitutes) The garlic has to be mashed.  A blender or food processor will not work - you'll get a bland garlic mayonnaise.  The pounding pulverizes the cells, releasing allicin which gives it the sharp, hot flavor. 

Method:

Smack the garlic once with side of a knife to start breaking it down then put it in the mortar along with the salt. The texture of the salt is needed to help break down the garlic.  Pound with the pestle until you get a paste.  Yes, this will take awhile.  (It took 10 - 15 total minutes for me to make this.)  When you have a thick paste add the olive oil a few drops at a time and work into the garlic.  Once the drops are incorporated, add a few more.  Continue adding oil until it becomes difficult to incorporate then stop.  If you add too much the sauce will break - the oil will separate from the garlic.  This should look like a very thick mayonnaise.
Note:  If you don't  have a mortar and pestle you can use a small, deep bowl (ceramic if possible) and the round handle of something - table knife, spatula, rolling pin, something fairly large.  You could also mash the garlic and salt into a paste on a plastic cutting board (or in a heavy food bag) with a meat pounder, first, then put it into a bowl and incorporate the oil using a fork or whisk. Just remember that the garlic needs to be really mashed or it won't accept the oil.  And if nothing seems to work, just add the mashed garlic and oil to some mayo.....