Baked Eggs
Paupiettes (Provençal Veal Rolls)
Potato Gratin with Caramelized Shallots
Sautéed Butternut Squash with Shallots
Individual Potato Gratin with Caramelized Shallots
Total time: 1 hour 20 minutes
    The sweet, caramelized shallots under the bubbling, golden cheese is wonderful.  If you don't normally have milk on hand you can substitute chicken stock, or half cream (or crème fraiche) and half water.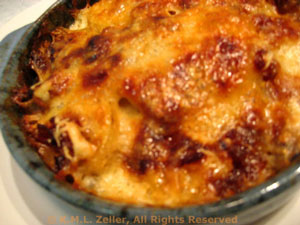 Ingredients:
3 large shallots, sliced
1 tbs butter
2 tsp brown sugar
2 medium potatoes, 10oz total (300gr)
1/2 cup (4oz, 120ml) milk
1/2 cup (2oz, 60gr) shredded cheese, any flavor (I used Emmenthal)
 Instructions:
Note:  Put the dishes on a baking tray, for ease of handling and because they will probably cook over - saves oven clean-up.  I use one large sheet of foil and loosely cover both of them with it. 
Note 2: You can bake this in one, larger baking dish. Try not to layer the potatoes deeper than 1" (2.5cm).  Increase covered baking time by 10 minutes.