Potato Crisps with Sage
Total time: 55 minutes
    These get quite a dark, golden brown and very crispy.  If you prefer them softer bake them for 20 minutes rather than 30 before adding the sage.  Based on a recipe from Cooking Light Magazine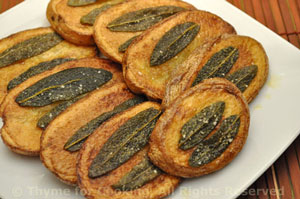 Ingredients:
2 - 4 potatoes, depending on size, 12 - 16oz (400gr) total weight
2 tbs olive oil
15 - 20 large sage leaves
sea salt
 Instructions:
Cut potatoes the long way into 3/16 inch (.4cm) thick slices.  You should get around 5 slices from each potato - the first and last slices, being mostly peel and not flat, should be discarded. 
Put olive oil in large bowl and add potato slices.  Mix with fingers to coat each slice. 
Remove potato slices and put on baking sheet with low edge - nonstick, if you have it. 
Bake in 400F oven for 30 minutes. 
Put the sage leaves in the bowl and toss to coat with oil - using fingers and adding oil if necessary. 
After 30 minutes remove potatoes from oven.  With spatula lift up each potato slice and place a sage leaf under it. 
Return to oven for 10 minutes. 
Remove potatoes and turn them so that the sage leaf is on top. 
Bake for another 10 minutes. 
Remove from oven and sprinkle with salt.  Serve immediately.