Hot Cauliflower and Potato Salad
Total time: 30 minutes
    Potatoes and cauliflower take about the same time to cook - so why not cook together?  Finish with a slightly sharp mustard and a slightly sweet vinegar and you have a flavorful side dish; one dirty pan!  Give the potatoes a slight head start....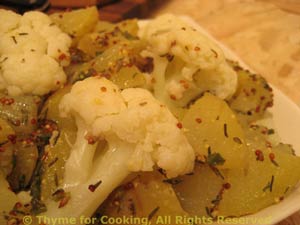 Ingredients:
7oz (210gr) cauliflower, 1/3 head
2 medium potatoes
1 tbs olive oil
1 tsp dried thyme
1 tsp dried chives
1 tbs white Balsamic vinegar
1 tbs whole grain mustard
 Instructions:
Put an inch of water in the bottom of a steamer and put it on medium-high heat. 
Cut potatoes into large bite-size chunks and put into the steamer. 
Cut cauliflower into florets, put on top of potatoes. 
Steam for 10 - 15 minutes, until fork-tender. 
Remove from heat and drain water from pan. 
Return pan to heat and add oil. 
Add herbs, mustard and vinegar, heat through. 
Add potatoes and cauliflower and toss well to combine.  Serve.