Baked Tomatoes with Pesto
Chicken Breasts Stuffed with Mozzarella, Basil
Potatoes Braised in Olive Oil with Bay Leaves
Green Beans with Prosciutto, Garlic Chips
Potatoes Braised in Olive Oil with Bay Leaves
Total time: 40 minutes
    This is a simple dish of potatoes and bay leaves, braised in olive oil.  They can be done in a skillet or a covered dish in the oven.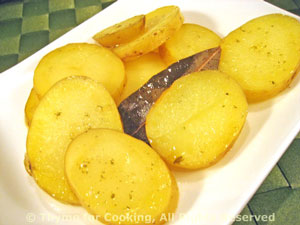 Ingredients:
2 medium potatoes
4 bay leaves
3 tbs olive oil
 Instructions:
Slice the potatoes about 1/4" (.5cm) thick.
Put the oil in a baking dish large enough to hold the potatoes in one or two layers, but not tightly packed.
Add the potatoes and turn to coat thoroughly. 
Tuck the bay leaves in amongst the potatoes, cover and bake for 35 minutes, 400F (200C). 
To serve: 
Remove from oil, discard bay leaves and serve.