Sausages with Peppers and Onions
German Summer Potato Salad, leftover
Cucumber Salad
Grilled Sausages with Peppers and Onions
Total time: 25 minutes
   Served in a bun this is more common as 'street food', but I prefer it without: more veg and less bread.... Use any kind of sausage you like: bratwurst, Italian, turkey, pork, beef, hot or not.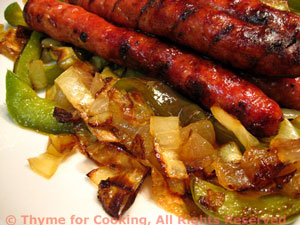 Ingredients:
4 - 6 sausages, 12 oz total (360gr)
1 green bell pepper
1 onion
1 tbs olive oil
 Instructions:
Slice pepper and onion about 1/3" (1cm) thick. 
Put olive oil in large bowl, add pepper and onion, toss well to coat. 
Put into 'grill pan' (a metal or foil pan dedicated to use on the grill) or onto a mesh grill pan (the idea is not to have the stuff fall through the grate into the fire....) Cook over medium heat 10 - 15 minutes, until they have a nice color. 
Cook sausages about the same amount of time - or until done. 

Or

you can sauté the whole lot in a nonstick skillet: start with the peppers and onions and 1 tbs olive oil.  Add the sausages after a bit.