Grilled Sausages with Tomatoes, Shallots and Onions
Total time: 20 minutes
    Get any variety of sausage that looks good.  I normally fix 8 but they are quite skinny - less then 12oz total weight  Italian, either hot or sweet would work well here.  The onions should be brown in places, soft in places and a bit crunchy in places...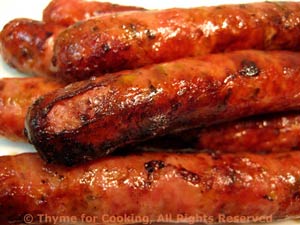 Ingredients: 
4 - 8 sausages, 12oz (360gr) total weight

 

2 - 3 medium shallots

more if they are small

1 large onion

or 2 smaller

1 cup cherry or grape tomatoes
2 tsp white Balsamic vinegar
1 tbs olive oil
 Instructions:
Peel onion, cut in half, then cut each half into 4 wedges. 
Peel the shallots and cut in half. 
Put olive oil and vinegar in a medium bowl, add all onion and shallots.  Toss well to coat. 
Put into 'grill pan' (a metal or foil pan dedicated to use on the grill) NOT a mesh grill pan.  Cook over medium heat 25 minutes. 
Cut tomatoes in half and add to shallots and onion. 
Stir to combine and cook another 5 - 8 minutes. 
About 10 minutes into veg cooking time put the sausages on the grill (allow more time if they are fat).  Grill until done.  Whichever gets done first just move to the side off of the main heat and finish up.  Remove all and serve.
OR:

 Put onions and shallots onto a baking sheet with a lip (my trusty 'pizza' pan) and roast in 400F (200C) oven for 25 minutes, adding the tomatoes for the last 10 minutes. 
You can either add sausages after 10 minutes or sauté sausages in large nonstick skillet, browning well on all sides, then cover and continue cooking until done 4 - 8 minutes longer, depending on size (cut one open and look - shouldn't be pink).