Pork Tenderloin with Brussels Sprouts
Total time: 30 minutes
   Sliced pork tenderloin and Brussels sprouts cooked together in a brown sugar and hot mustard sauce.  Serve over brown rice for a healthy, one-dish dinner.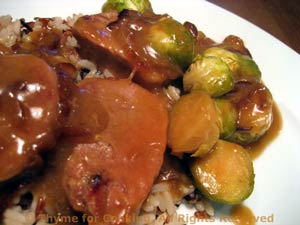 Ingredients:
14oz (420gr) pork tenderloin
1 onion
2 tsp olive oil
14 - 16 Brussels sprouts
1 tbs brown sugar
1 tbs Dijon-style mustard
1 cup (8oz, 240ml) beef stock
1 tbs maizena dissolved in 2 tbs water
 Instructions:
Roughly chop onion. 
Heat oil in a large skillet.  Add onion and sauté until tender, about 5 minutes.
Slice tenderloin into 1" (2.5cm) thick rounds.
Move onions to the side of the skillet and add pork.  Brown about 2 minutes per side.
Add sugar, mustard, and stock; stir to combine, cover and simmer for 10 minutes
Trim Brussels sprouts: slice a bit off of the stem end and peel away the outer leaves - any that are damaged, wilted or discolored. Cut in half. 
Lay the Brussels sprouts around the pork, cut side down. 
Simmer until sprouts are fork tender, about 10 minutes longer. Dissolve cornstarch in water. 
Move pork to the side, stir in cornstarch mixture, stirring until thickened. Serve.