Sunchoke Soup 
Roast Pork Tenderloin with Red Wine Shallots
Twice-Cooked Potatoes
Brussels Sprouts, Italian Style
Roasted Pork Tenderloin with Red Wine Shallot Confit
Total time: 40 minutes
   Moist, tender Pork Tenderloin served with a thick, slightly sweet Shallot Confit.  To keep pork at its best do not overcook.  It is considered done with an internal temperature of 145 F (62C).  If you roast it until it reaches 140 (58C) then let it rest it, covered, it will reach the proper temperature.  Resting is also important to let the juices retreat back into the meat.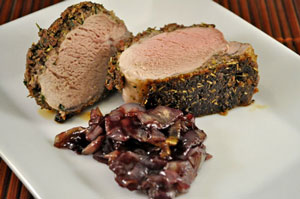 Ingredients:
1 pork tenderloin, 14oz,  (420gr) 
1/4 cup dry bread crumbs
1 tbs Dijon-style mustard
1 tbs dried rosemary
1 tbs dried parsley
1 tsp dried thyme
1/2 tsp garlic powder
2 tbs red wine
1 tbs olive oil
Red Wine Shallot Confit: 
4 - 5 shallots, 1 cup sliced
1 tbs olive oil
1 tbs brown sugar
1/4 cup red wine
1 tsp cornstarch dissolved in 1 tsp water
 Instructions:
Mix all crumbs, mustard, herbs, garlic and wine in a small bowl to make a thick paste. 
Spread some of the paste on one side on the pork.
Lightly oil a baking sheet and place the pork, herbed side down on it. 
Spread the paste on the rest of the pork. 
Drizzle the top with the remaining olive oil. 
Roast in 400F (200C) oven for 25 - 30 minutes, depending on size, until done.  Use a meat thermometer.  Remove when internal temperature is 140 F (58C). You can also slice it and take a peak.  Slightly pink is okay. 
Cover loosely with foil and let rest for 10 minutes before slicing. 
While the pork roasts:
Peel and thickly slice the shallots. 
Heat oil in a nonstick skillet over medium-high heat.  Add shallots and sauté until tender, about 5 minutes. 
Reduce heat to low and let cook until browned, about 30 minutes longer. 
To finish:
Add brown sugar.  Stir well to melt sugar and combine. 
Add red wine and cook for a few minutes longer. 
Dissolve cornstarch in water and stir in to thicken.  Serve on the side.