Stuffed Mushrooms with Browned Shallots and Garlic
Barbecued Stuffed Pork Tenderloin
Potato-Tomato Gratin
Green Beans with Browned Butter
Barbecued Stuffed Pork Tenderloin
Total time: 45 minutes
   It doesn't take a lot of stuffing... And it kind of oozes out the top.... But, it does get nicely caramelized on top and keeps the pork moist. Cook the pork, stuffing side up, without turning, in a covered grill.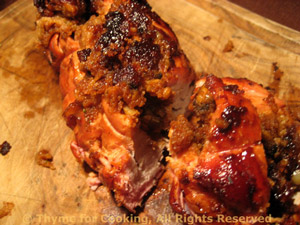 Ingredients:
1 pork tenderloin, 14oz, 420gr
2 tsp olive oil
1 1/2 tsp paprika
1 clove garlic, minced or crushed
1/3 cup chopped mushrooms about 1oz (30gr)
1 1/2 tbs bread crumbs
1 tbs ketchup
1 tsp Worcestershire sauce
1 tbs snipped fresh rosemary

substitute 1 tsp dried

1 tbs snipped fresh chives  

substitute 1 tsp dried

Barbecue Sauce:
1/4 cup (2oz, 60ml) ketchup
1/2 cup (4oz, 120ml) tomato sauce 
2 tbs cider vinegar
2 tbs molasses
1 tbs Worcestershire sauce
2 tsp dry mustard
2 tsp dried oregano
1 tsp garlic powder
 Instructions:
Chop mushrooms
Mince or crush garlic. 
Heat olive oil in small skillet over medium heat. Add paprika and sauté for 1 minute. 
Add mushrooms and garlic and sauté for 3 - 4 minutes, until starting to brown and soften. 
Meanwhile, butterfly pork tenderloin - cut it in half lengthwise leaving 1/4 inch intact - so that you can open it like a book.  Open it and give it a couple of whacks with a meat mallet so that it lies flattish... or pound lightly with the edge of a plate.  You just want it to be flat and easy to work with. 
When mushrooms are done put into a small bowl and add bread crumbs, herbs, Worcestershire and ketchup. 
Mix well and spread on one side of pork about 1/8 inch from the edge. 
Fold other side over and tie with kitchen string.  Cut five 6 inch lengths of string and wrap around pork and tie every 2 inches - making certain that you do one as close to each end as possible.
Cook pork on barbecue grill for 30 minutes or until done, basting during the last 10 minutes with Barbecue Sauce.  When done, slice and serve with more Barbecue Sauce on the side. 
Could also be baked at 400F for 30 minutes or until done.  It is done when 'juices run clear', so - either poke it, slice it and take a peak or use a meat thermometer.  See techniques.
Barbecue sauce: 
Mix all ingredients in small sauce pan and bring to a boil over medium heat stirring frequently.
Simmer 10 - 15 minutes, remove from heat and use when needed. 
Sauce will keep for a week in the refrigerator.