Pork Tenderloin with Ginger Barbecue Sauce
Quinoa and Lentil Pilaf Salad
Grilled Pork Tenderloin with Ginger Barbecue Sauce
Total time: 35 minutes
    Try not to overcook pork; slightly pink on the inside is now acceptable and keeps the meat moist and succulent.  Put some of the barbecue sauce in a separate bowl to be used for basting and discard or cook any leftover basting sauce.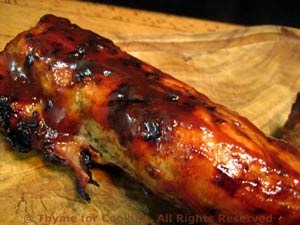 Ingredients:
1 pork tenderloin, about 12oz (360gr)
1 tbs paprika
1 tsp garlic powder
1/2 cup

Ginger Barbecue Sauce
 Instructions:
Mix paprika and garlic powder.  Rub over pork. 
Put pork on barbecue or in 400F (200C) oven for 25 - 30 minutes.  Turn occasionally to brown on all sides. 
Baste pork with barbecue sauce after 15 minutes.  Baste 2 - 3 times.  When you think pork is done slice into middle to check.  It should be done to an internal temp of 145F (62C). 
Remove, slice about 1/2" (1.5cm) thick and serve, drizzling with any remaining barbecue sauce.
Ginger Barbecue Sauce
Time: 10 minutes
Similar to our regular barbecue sauce but a bit spicier with the ginger and mustard. This will keep a week in the fridge.... But it never lasts that long.   Adding the full 2 tsp of mustard and ginger will make it a bit spicy/hot
 Ingredients:
1 cup (8oz (240ml) tomato sauce
2 tbs molasses
2 tbs cider vinegar

or other vinegar

1 - 2 tsp dry mustard   

try 1 tsp, taste after heating, add more if you like

1 - 2 tsp ground ginger 

try 1 tsp, taste after heating, add more if you like

1 tbs soy sauce
 Instructions:
Heat all ingredients in a small saucepan, whisking to combine. 
Bring to a simmer just long enough to combine all ingredients.  
Note: Remove 2 - 3 tbs barbecue sauce to use for basting rather than dipping the basting brush or spoon into that entire sauce.