Artichokes with Mayonnaise Dipping Sauce
Barbecued Pork Tenderloin
Roasted New Potatoes Dijon
Roasted Asparagus with Fresh Herbs
Barbecued Pork Tenderloin
Total time: 35 minutes
  This sauce would also be great on ribs, but a pork tenderloin is a moist, tender cut that cooks quickly.  Put half the sauce in a separate bowl to use for basting and serve the rest at the table.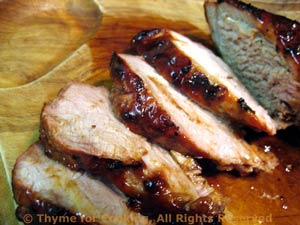 Ingredients:
1 pork tenderloin, (14oz, 420gr)
1 tbs paprika
1 tsp garlic powder

Barbecue sauce:

1/2 cup (4oz, 120gr) ketchup
1/2 cup (4oz, 120ml) tomato sauce
2 tbs cider vinegar
2 tbs molasses
1 tbs Worcestershire sauce
2 tsp dry mustard
2 tsp dried oregano
1 tsp garlic powder
 Instructions:
Mix paprika and garlic powder. 
Rub over pork. 
Put pork on barbecue grill or in 400F oven for 25 - 30 minutes.  Turn occasionally to brown on all sides. 
Baste pork with barbecue sauce after 15 minutes. Baste 2 - 3 times. 
When you think pork is done slice into middle to check.  Slightly pink is acceptable now, and that is how we like it.  It stays nice and moist when not overcooked. When done to your taste, slice and serve.

Barbecue sauce

:
Mix all ingredients in small sauce pan and bring to a boil over medium heat stirring frequently.
Simmer 10 - 15 minutes, remove from heat and use when needed. 
Sauce will keep for a week or 2 in the refrigerator.