Stuffed Mushrooms
Roast Pork Loin with Onion Sauce
Potato and Leek Pancake
Carrots with Mustard Glaze
Braised Loin of Pork with Mustard Onion Sauce
Total time: 1 hour 15 minutes
   I use a small loin roast, 1 1/2 lbs and it cooked to the correct temperature in just over an hour. The bay leaves, mustard and wine add a lovely, slightly pungent flavor to both the pork and the Onion Sauce.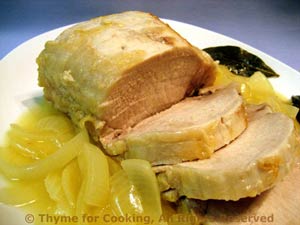 Ingredients:
1 pork loin roast, 24oz  (720gr)
2 onions
4 bay (laurel) leaves
1/2 cup (4oz, 120ml) of white wine
1/2 cup (4oz, 120ml) chicken stock
1 tbs Dijon-style mustard
1 tbs olive oil
1 tbs cornstarch (maizena, corn flour) dissolved in 1 tbs water
 Instructions:
Slice onions, thickly. 
Heat oil in a heavy pot or Dutch oven with tight-fitting lid.  Add onions and sauté until tender, about 7 minutes. 
Move onions to the side and add pork.  Brown on one side 5 minutes, then turn and brown the other.
Stir the onions.  Add bay leaves, wine, stock and mustard, turn heat to low, cover and braise for 1 hour. 
Take temperature, it should be 145F (62C). If not done, continue braising, checking temperature every 5 minutes. 
Remove pork and keep warm. 
Dissolve cornstarch in water. 
Increase heat under sauce.  Add cornstarch and stir until thickened. 
Slice pork, spoon onions around and serve.