Sautéed Mushrooms and Pecans on Butternut Squash
Braised Pork with Laurel (Bay)
Potatoes and Carrots with Bay
Braised Pork Loin with Bay Leaves (Laurel)
Total time: 1 hour 45 minutes
    Yes, 12 bay leaves.  We are actually going to taste a hint of bay in this roast and it's quite lovely. You can use either fresh or dried.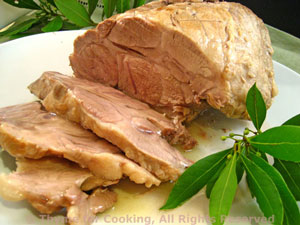 Ingredients:
 Instructions:
In heavy pot or oven with tight-fitting lid, brown pork in olive oil. 
After turning pork, add sliced onions to brown as well. 
Add remaining ingredients, turn heat to low, cover and braise for 1 1/2 hours. 
Remove pork and keep warm. 
Strain juices, then return to pan.  Reduce pan juices over high heat until slightly thickened and syrupy.  
Slice pork, pour pan juices over and serve.