Pork Chops with Ginger Caper Sauce
Total time: 30 minutes
   Fry the chops, then kept warm while the sauce is quickly made. Remember, slightly pink pork is okay, and keeps it tender and moist. You need Greek yogurt, crème fraiche or sour cream for this.  Regular yogurt will not give a nice, thick sauce.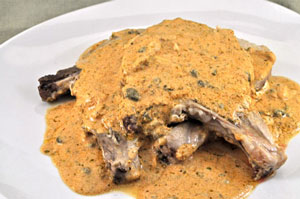 Ingredients:
2 - 4 pork chops, depending on size
1 tbs olive oil
2 cloves garlic
1 tbs tomato paste
1 tbs capers
2 tsp minced, fresh ginger
1 tsp Worcestershire
1 tsp Dijon-style mustard
1 tsp dried oregano
1/3 cup (3oz, 90ml) chicken broth
1/2 cup (4oz, 120gr) Greek Yogurt or sour cream
 Instructions:
Mince garlic.
Peel a small section of ginger,  cut into thin slices, then mince. 
In a small bowl mix ginger, tomato paste, capers, Worcestershire, mustard, oregano and yogurt.  Set aside.
In medium nonstick skillet heat oil over medium heat.  Add pork chops and sauté until well browned and cooked (almost) through, 7 - 8 minutes per side. 
Remove chops to a small platter or plate and cover to keep warm. 
Add garlic to skillet and sauté briefly. 
Add chicken stock and cook, scraping up the browned bits from the bottom of the skillet. 
When simmering nicely add yogurt mixture, stirring well with a wooden spoon and simmering until thickened.
When sauce is hot and thick, pour over chops and serve.