Easy Barbecued Pork Chops 
Spanish Potatoes
Green Beans with Lemon and Soy Sauce
Easy Barbecued Pork Chops 
Total time: 30 minutes
    More than a simple marinade, but not quite a barbecue sauce.  Finish with leftover or commercial Barbecue Sauce.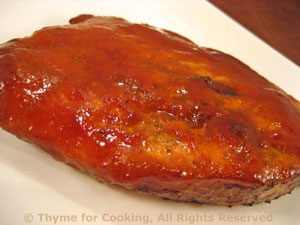 Ingredients:
2 - 4 pork chops, depending on size, 12oz (360gr) for boneless
2 tbs ketchup
1 tbs oil
1 tbs red wine vinegar
1 tbs Dijon-style mustard
2 tsp soy sauce
1 tsp chili powder
 Instructions:
Mix ketchup, oil, vinegar, mustard, soy sauce and chili powder.
Spoon over chops and let marinate 10 minutes.
Cook on barbecue grill for 5 - 8 minutes per side or until done.  Should be slightly pink in the center when done - take a peak (techniques). 

Or

fry in nonstick skillet over medium-high heat the same amount of time.  Serve.